Haidar Al-Morayed reporting:
On February 15th, the annual Vanhojen tanssit celebration was held in Kuopion klassillinen lukio. Vanhojen tanssit (the Finnish version of prom) is a ball held the day after the oldest students have left the school to study for their matriculation exams in which the sophomores dance with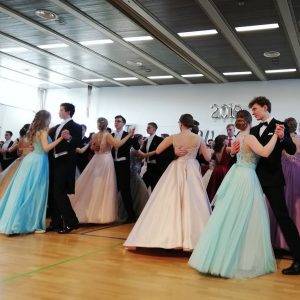 each other. That's where the name – Ball of the seniors – comes from. The students start preparing a few months prior to the actual ceremony by enrolling in a special course where they practice dancing.
The ceremony held in our school was made up of thirteen different dances including one the students got to create themselves. It's harder than it sounds: The breaks in-between are very short, so participating students have to focus lest they find themselves unable to get back into the flow. In addition, the dances themselves consist of intricate movements, so precision is key to avoiding mistakes that you probably wouldn't want to happen at such an important event.
Vanhojen tanssit isn't just a formal dancing ceremony, however, as it also signifies the students' passing into young adulthood. It's seen as a moment of maturity and elegance, one remembered as the highlight of many people's time in high school and a lifelong memory.
After dozens of hours of practice, the students enter the school gym in their neat suits and pastel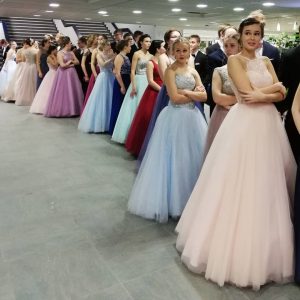 dresses. Dozens of hours of practice have led up to this moment they've been waiting for all year. Their parents are proudly watching from the side. After an initial silence, music starts playing and the ceremony begins with a traditional Pas d'Espagne performance, a staple in Vanhojen tanssit across the country. When the marvelous spectacle of different genres such as tango, salsa, and traditional folk dances is over, the audience joins in on a final Waltz performance. Afterwards, many students like to take photos with their partners or parents to keep as memorabilia.
I personally didn't participate in Vanhojen tanssit, so I decided to interview a friend of mine who did, Elina Luoranen:
How did you prepare for the day?
I bought a dress, shoes and got my hair done. On the day of the ball I woke up at 6 AM, went to a hairdresser and arrived at the school at around 10 AM.
Were you nervous?
I was slightly nervous but having already done some of the dances eased it.
Was it difficult to find a suitable dress? What about a dance partner?
Finding a dress was quite easy. We found a used one on Facebook and it was suitable. Finding a partner was difficult for me, as I was unable to find one even though I had asked multiple people. In the end the teachers assigned me a partner, who danced with me for some of the ceremony and with another person for the rest.
All in all, how was the experience?
The experience was memorable and in a class of its own, despite the day itself being exhausting. I danced in two of the three performances held throughout the day and stayed in the school in-between them.
What advice would you give to upcoming seniors looking to take part in Vanhojen tanssit?
It's best to start looking for a partner and outfit early. If you don't want to spend too much money on your suit or dress, used ones can be found on Facebook and Instagram for example. Something to eat and a bottle of water are good to have for the long day. Don't stress too much in advance and remember that the most important thing is to enjoy the day.
Klassikka News reporter Haidar Al-Morayed