Jolanda Varis reporting:
Have you
ever wanted to visit Canada, or learn more about it? Meet Cameron Butler, a seventeen-year-old Canadian who is currently in an exchange in Klassikka, Kuopio. What qualities are important when in exchange? What does Cameron tell us about Canadian education? Read more to find out. 
Cameron has several hobbies back in Canada. At the beginning of the interview he included reading, swimming, rugby, performing arts to his list of interests. "Concerning books, fantasy is my favorite genre, but I also enjoy reading informative books like encyclopedias. I have a bit of an odd taste in books." On the other hand, he was part of a performing arts group in Canada. "We did mostly plays and musicals", Cameron says. 
One subject I was personally interested about was the school system in Canada, and at least in my opinion it is honest to say I didn't know anything about it beforehand. Cameron answers: "In general, we start school a year earlier than you do. High schools are quite similar to the US. Unlike Finland, school-run sports are a big deal in Canada. For example, in my school, the girls' basketball team went to Hawaii for a tournament. Apart from that, arts are also important in high schools, such as drama, music and visual arts." 
Cameron compared Canadian high schools to Finnish elementary schools whereas Finnish high schools to Canadian universities based on the ways the schools are run. "Our school year (in high school) is divided to two semesters, and in each semester you have four classes. Those four classes you will then have every day, which is of course quite different than here", explains Cameron. This means that in total, Canadian students have less classes than Finnish, but the amount of knowledge is about the same.  
A fascinating topic we covered in the interview, as well, was the topic of languages.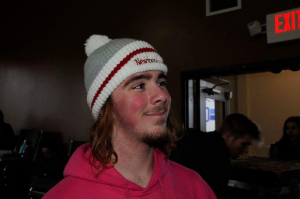 First of all, how many languages do people have to study in Canada? "We are required to study both of our official languages, English and French. In English-speaking parts of Canada most people speak French with the same skill level as most Finns speak Swedish. We start studying French in the fourth grade and continue until the first year of high school ( =9th grade). After that it is optional." Cameron added that in his school, some people are also able to choose to study Spanish. "In bigger cities, it might be possible to study Latin, German or other languages as well". Cameron noted that in average, people in Finland probably study more languages than in Canada. 
Being an exchange student is something most of us can only dream about, but it's possible. After over 4,5 months of exchange, Cameron has some advice to give. "If you want to go to exchange, you have to have perseverance and determination. Exchange is a lot of fun, but it can also be hard sometimes. You spend 24 hours a day, seven days a week away from your family, in a place different than what you are used to. There's no other choice than push trough the times when you wouldn't want to talk to people." 
Does Cameron think he has learned something during his stay? "Aside from a small amount of Finnish, I've learned to appreciate the fact that different people have different ways of doing things, and it's good to learn more than just one way. Another valuable lesson has been learning to act without knowing what is going to happen next." Thank you, Cameron, for your time and have a great stay in Finland!