Ella Mustonen reporting:
She does her studies in English. She has played the cello since she was a five-year-old child. Her name is Madoka Nakajima, she's 17, and she was our school exchange student for three weeks in March 2018.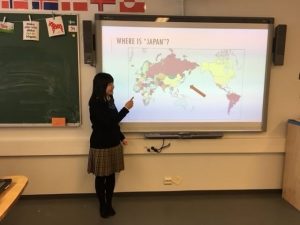 Madoka came to Kuopio in early March. Before that, she had heard that Finland is an expensive country.
– It's not so expensive as I expected. I had heard that for example hamburgers cost very much, she laughs.
Madoka lives in Japan, near Tokyo. Even though Japan is very far from Finland, she thinks that we have something in common.
– I think that Finns are somewhat similar to Japanese people. Some people are shy and some people are really friendly.
But there are also some differences between Japan and Finland. She says, for instance, that there are some different manners and habits in high school systems. For example, in Madoka's high school students wear school uniforms.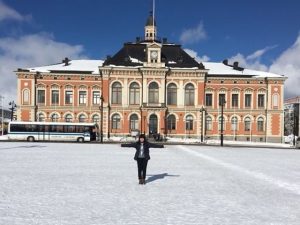 – I feel it's a good thing because everyone is equal and we don't have to choose clothes every day, she says.
– But it's a bit expensive, she adds.
Madoka's plans for the future aren't clear yet but she has some thoughts.
– I was planning to be a teacher. Now I'm interested in education. But I'm not sure if I will be a teacher or something else.
She hasn't decided which subject she would like to teach.
– I believe I can use English, she says about her favorite school subject.