Jolanda Varis reporting:

Furano Maruyama is a Japanese exchange teacher who was in Kuopio from January to April 2018. I interviewed her some time ago and she told me some things about Japanese schools as well as her opinion of Finnish and Japanese students.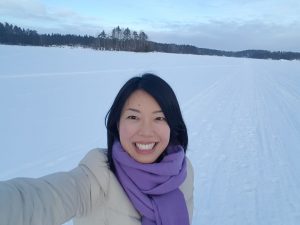 I wanted to know some facts about Japanese schools and teachers so the contrast between Finland and Japan would be easier to understand for me. Furano told me that Japanese children start school at the age of six or seven. School days are much like in Finland, from about 8.30 a.m. to 2.30 p.m., but in Japan junior high and high school students have school-based activities after the actual school day, usually until 7 p.m. Sometimes on Saturdays and Sundays there are also some activities, but that means Monday is free. 
"Teachers have longer days in Japan than in Finland. We work about twelve hours per day", she says. "Teaching classes doesn't obviously take that long, but we have to lead students' activities and think about our homeroom class's future." Furano added that it is possible to make arrangements with other teachers in case you want to have a shorter day sometimes. Becoming a teacher in Japan takes approximately the same time as in Finland.
The next thing I wanted to know was if there are any differences between Finnish and Japanese students and Furano said that there are, indeed. "Japanese students tend to be shy and they don't have strong opinions – at least they don't say them out loud. In comparison, Finnish students are very independent and they tell their own opinions in school", she told. "Surprising to me probably was that Finnish students have a very good ability to concentrate." Then, on the other hand, if you think about Finland and Japan as countries, Furano says that in Japan working plays too big of a part in life. 
Finally, I wanted to know how Furano likes Finland. "Finland is great, of course I've enjoyed it. The winter is cold, but I got to go ice skating and also tried avantouinti", she says with laughter. Furano; we wish you all the best in your future endeavours!